Services

Custom Exhaust
Custom Performance Exhaust and Catalytic Converter Specialists!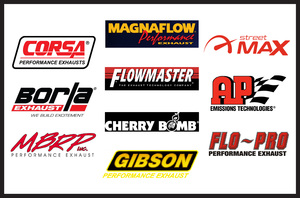 Mufflers and Custom Exhaust

Today, more and more customers are coming in because they want to put a custom exhaust system on their vehicle. They want it to look and sound unique. We are your source for performance and replacement mufflers. We can meet specifications and install mufflers on most vehicles.
Custom Performance Exhaust and Catalytic Converter Specialists
We do it all. Stock and Custom Exhaust. Full line of Accessories. All the Biggest Brands, Best Quality, Price and Guarantee!
Whether you're boosting performance or looking for that perfect exhaust rumble. Our shop has access to the widest range of performance mufflers and with our State of the Art Digital Pipe Bender with 3" bending capability we can fabricate the perfect system for your ride.
We handle exhaust for Classic and Modern cars and trucks.
We can fabricate exhaust pipes and tail pipes for virtually any vehicle on the road
Your vehicle is an extension of you. Let us fabricate the perfect exhaust system for you! We carry the biggest brands out there:
Magnaflow
Flowmaster
Borla
Corsa
Flo-Pro
Cherry Bomb
AP Exhaust
MBRP
Gibson
Street Max
Custom Exhaust and Muffler
Are you looking for the best Custom Exhaust Shop in your area?
If you're trying to find the Best Custom Exhaust Shop to give your vehicle that deep rumble and eye-catching look of an aftermarket exhaust, we are just the place for you.
Custom Exhaust systems can improve the style and performance of your vehicle.
Enhanced Exhaust Performance
Even when an OEM Exhaust system is perfectly functional, there are drivers who take a little more pride in their ride and want the look and sound of an upgraded exhaust. Have you been considering a dual exhaust system with some fabrication to make it unique to your vehicle. Our team of professional exhaust installers will work with you to make your vision a reality.
We will help you enhance your vehicle's performance with aftermarket upgrades that not only look
great but sound great too!
Adding a Custom Exhaust System
How does an aftermarket Exhaust System give you more power? It makes use of the wasted potential
that is already in the engine system. A Custom Exhaust system can do things that your stock systems just
don't do.
So, you can boost your car's power either because you're looking for that performance boost or because
you seek that deep growling sound. Either way, our certified technicians and state of the art equipment
can help you get the exhaust system you seek for your vehicle.
Designing Your Custom Exhaust System
Get in touch with our Custom Exhaust team for a consultation. Let us know your goals for your new
exhaust system and we will help you identify the best options for getting the look and sound you've
been dreaming about!
Call us today for a a Quote!